The Body Shop in Santa Barbara closed this month. I stopped by last week to see movers actually taking out the last of the boxes. Most people may not know, but for a while the majority of Body Shops were franchised, to empower women to become small business owners. Our local Body Shop was franchised by Anita Roddick (she had a house in SB) for, I think the past 8 years, but maybe longer.
I went to The Body Shop in the Ventura mall yesterday, a 30-45 minute drive, because I wanted to support the stores — I want them to continue to exist. When I walked in, I said without thinking, "this doesn't look like The Body Shop." In fact, it could have been any mall store. Gone were the trademark green walls. There were no provocative slogans hanging in the windows or on the walls. A sales girl introduced me to their new line "Japanese Cherry Blossom." I asked if it were community trade and she said no, but the body butter had "organic" olive oil and the unique thing about the product was they used real cherry blossoms. I felt like a small part of me died.
"Made with Passion" is L'Oreal's new slogan for Body Shop. As a writing teacher, I tell my students to show, not tell. Anita's Body Shop would never need a slogan like that. Walking into the store, happening upon a magazine ad, or reading the product labels assaulted us with passion. Her little beauty products were world-changing, confronting everything from the plight of third-world workers to women's distorted body images.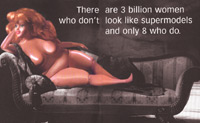 Although I tried Body Shop's products in the early 80's, I didn't start using them on a daily basis until ten years ago. I watched a documentary about a community who produced shea butter for the Body Shop. Community members were paid a living wage, worked in decent conditions, appeared to improve their living conditions, and received health benefits such as dental and medical care. Best of all, the community were cultivating something locally in an environmentally sustainable way that had been cultivated by the same community for centuries. That afternoon, I went to the Body Shop and bought three of their Brazil Nut products.
Every morning, I use the Brazil Nut body butter and I feel like in a small way, I'm doing my part. That's the beauty of Anita's work: she allowed all of us to collectively make a difference, just by using her products.
Before curbside recycling programs were widely available in the U.S., Body Shop stores offered a 10% discount on purchases if you brought back used product containers for recycling. I'd save my containers in a Body Shop bag bearing one of my favorite slogans "If you think education is expensive, try ignorance." Again, whenever I brought the containers in for recycling, I felt like I was part of something much larger.
I've always felt empowered to vote with my dollar. As often as possible, I buy local organic foods, support local businesses who support local charities, and generally try to make as many of my purchasing decisions matter in the larger scope. Anita certainly made this easier. As I was preparing to go to Ventura yesterday, I took stock of all of the Body Shop products I use — pretty much 60% of the products I use are from Body Shop.
I think I'll continue to buy the body butter as long as it remains a community trade item, but the new lines of shower gels and lotions that are "made with passion" plus a lot of non-descript ingredients don't really seem to uniquely contribute to bettering anything, so now I'm going to seek out up-and-coming lines attempting to accomplish Anita's goals.
Cause-marketing makes it difficult to distinguish products that are truly benefitting our global community from those that aren't. Anita pushed the envelope with her campaigns and somehow balanced conscientious production with amazing products. Her team must be incredible, but it does seem that one woman made a global difference.
I highly recommend her books "Business as Unusual" and "Take it Personally" — they're certainly not books you curl around to relax with a cup of tea. They're energizing and inspiring.
I think I'm rambling now, but just wanted to pay tribute to the amazing force that was Anita Roddick and the difference she's made in my life. Goodbye, Santa Barbara Body Shop. Thank you, Anita.