A colleague of mine recently shared that a friend of his in Texas had suffered a terrible accident and was in a coma. To make matters worse, the man's wife was 8 months pregnant at the time of the accident. I offered to pray for him. A month has passed, so I asked my colleague for the name of his friend and his current condition. I learned that the wife of the coma patient had started a Facebook group to pray for her husband, so I checked it out.
Started in April, the "Pray for Keith Beasley" group has 5,411 members. His wife, Judy Foster Beasley, posts her prayers and thoughts on a weekly, if not daily basis. The posts are intensely personal reflections on her faith, her husband, their relationship, and her daily experiences.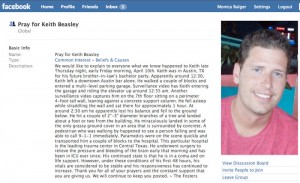 To be honest, given its popularity, the prayer group almost seems like a hoax. Since someone I know and trust told me about it, I believe it.
What's interesting to me is the (1) group's large size and (2) outpouring of faith on this page.
Group size
Even if the immediate Beasley family messaged all of their FB friends, the size of the group (5,411 ) is still impressive. I did a quick search on the term "pray for" and found that about 51,00 groups and 166 pages exist under these terms. Of course, group sizes range from 136,457 members ("Pray for Taiwan") to 1 member. The "Pray for Taiwan" group, organized after the devastation of Typhoon Morakot in early August, has 3,913 wall posts at the time of this writing, with new posts still appearing hourly. Another group, started in April to pray for three Pittsburgh Police officers has 68,110 members and 2,139 wall posts as of this writing. New posts continue to appear daily.
Outpouring of faith
Judy and members of the "Pray for Keith Beasley" group post prayers, writing personal messages addressed to God. Members also post notes of support and pledge to pray for Keith's healing. Posts to the Taiwan and Pittsburgh prayer groups are a similar mix of prayers and notes of support. Understandably, these groups are providing support during what would otherwise be (and probably still are) very isolating experiences.
Perhaps it shouldn't be too surprising that for all the arguments about privacy and Facebook, its users post extremely intimate thoughts during extraordinarily traumatic moments with complete confidence that they are not doing so in a digital vacuum.