I came across an interesting discussion on John Sowash's blog this morning about Google-proofing essay questions. Sowash provides instructions for making questions Google-proof, using Bloom's Taxonomy. I have mixed thoughts about this approach.
In defense of Google
First, in defense of Google, I think that educators should not discourage Google use, but instead provide guidelines for informed use. If a teacher notices that students immediately type an assigned question or essay prompt into Google's search, take advantage of a teachable moment. Discuss, say, how different search terms yield different results. Ask students how they choose which sites to read and then discuss strategies for evaluating credibility. Compare sites that provide informative, documented resources with those that are based on opinion, or not thoroughly developed. Draw upon the findings of Leu's (2007) study of seventh graders and the endangered tree octopus — ask how believable pictures and images make websites.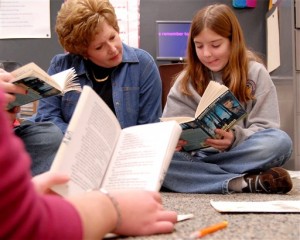 AP Photo/Herald Press Joel Phillippsen
Instead of creating walled gardens or entirely banning websites from students use, especially in a research context, educators should empower students to be informed users.
Smarter questions
I like Sowash's suggestions to use questions that require responses beyond copy/paste or fill in the blank. He suggests asking questions that can begin with a Google search, but then require students to make connections between the materials they find, or draw some sort of conclusion, or move beyond the simple answers in some way. In this scenario, Google search complements students' learning processes, rather than detracting from it.