Recent releases of the iPad and Droid met with anticipation and enthusiasm. As users of technology, we seem to be excited by what's next and new, but I wonder how long we will sustain this energy. Will we reach a point where we're fatigued? With the release of Google Buzz this week, I've noticed that I'm tired, and I'm not alone. The same friends and colleagues who anxiously shared or sought Google Wave invites seem quiet, reluctant, even suspicious about Google Buzz.
In Evan T. Straub's article "Understanding Technology Adoption: Theory and future Directions for Informal Learning" (Review of Educational Research, June 2009), he likens our pattern of technology adoption to Sisyphus' rock: "As Sisyphus was condemned to eternity of pushing a boulder up a mountain, only to have to roll it back down again, the average individual is doomed to a cycle of continual technology implementation."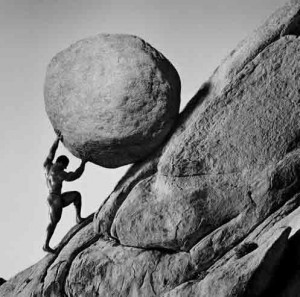 Slowly, we went from e-mail at work to e-mail at home to cell phones to texting to carrying our music, maps, Internet connection, etc. everywhere we go in the convenient form of an iPhone or other smart phone. Since constant communication is a seductive incentive, we've adapted quickly to new tech innovations, but will we reach a point where we feel fatigued? Currently, we seem to embrace new technologies, or at the very least learn them because we view them as necessary. What is enough in our tech enabled world? I think the current answer is we have no idea.