Yesterday, I attended Google's Big Tent Event in Hertfordshire. As an academic, I'm used to attending conferences at universities or Hiltons, not countryside resorts with helicopter pads. The event was held in a grand tent that could easily hold 500 people. It was well-insulated from weather and noise, carpeted, with an extraordinary sound and projection system, consistent and fast wi-fi, comfortable chairs, and to be honest, even the bathrooms were amazing. As I sat in my chair, discovering electrical plugs conveniently located under each seat, I couldn't help but compare this temporary structure for Google's few days of publicity events to public classrooms in their home state of California. I've conducted teaching observations in many elementary classrooms where 28 students share two or three computers, often less, because one computer isn't working and a request to fix it may take days or months because budget cuts have resulted in limited staffing. I've lectured in university classrooms that either do not have a projector or the projector is broken and again, the fix will take weeks, months to fix because budget cuts have limited technical support. School-wide wi-fi is an unrealized dream at most schools. Even at the university level, a majority of classrooms in California do not have it. California schools' permanent structures frequently do not have the insulation from weather or noise that Google's amazing temporary structure boasted.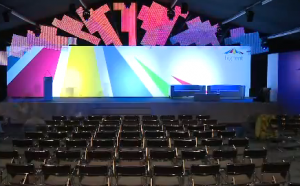 I wonder what could be possible if teachers had classrooms that functioned as well as Google's Big Tent? If teachers had the technical and administrative support that benefited yesterday's speakers, how could students' learning experiences be improved?
Do the quality of bathrooms reflect the health of an institution? MP Jeremy Hunt may say yes. In his address to the Big Tent group yesterday, Jeremy Hunt drew connections between the vision demonstrated when developing London's sewage system to current efforts to improve broadband infrastructure in the UK. The secret is the size of the pipes, apparently, and larger ones will ensure preparation for future data demands. Mr. Hunt used South Korea, who is #1 in OECD's educational rankings, as an example of the success possible with super-fast broadband. While discussing funding models for the project, including private support, Mr. Hunt did not address what would seem an obvious part of the equation: education funding. UK schools have been hard hit by recent budget cuts, including canceling the Building Schools for the Future Scheme and recent £155m additional cuts in the standards fund. If the education rankings of South Korea are serving as justification for investing in infrastructure for faster broadband, it would seem that simultaneously cutting funding for education serves cross-purposes.
While much public debate surrounds the quality of education, often solely blaming teachers, the quality of educational environments, including support at the technical, facilities, and administrative levels need more attention. Let's use Google's Big Tent, rather than makeshift shelters, as a model for classrooms and start directing funding to supporting students and their teachers, rather than forcing them to make due without.